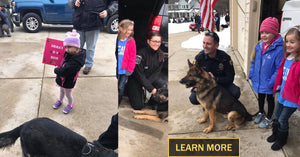 Terminally ill Wis. girl surprised by 40 Police Departments and K-9s
Almost 40 different police departments and K-9 units visited the girl over the weekend to brighten her day

A terminally ill schoolgirl with an inoperable brain tumor was visited by around 40 Police Departments and their K9 companions.

Little Emma Mertens loves dogs so much, officers visited her and brought their K-9 colleagues to her home in Hartland, near Milwaukee.

After hearing about her illness and her love of animals, police departments from around Wisconsin made the time to take the K-9s to her home to cheer her up.

A queue of officers and police dogs waiting to meet her stretched along her road as squads from around the state offered to help put a smile on Emma's face at the weekend.


The seven-year-old was diagnosed with a rare brain tumor, known as Diffuse Intrinsic Pontine Glioma (DIPG) around six weeks ago.

Last month she was inundated with 75,000 letters and photos of canines across the globe, from as far away as Scotland, Japan and Venezuela, after she asked for dog pictures to help her get through her treatment.

Emma doesn't have a dog of her own and often dogsits along with her parents for their neighbors.

After she was diagnosed, her friends and family sent Emma letters addressed from their pups to make her smile.

Then on Saturday her local police forces brought their own canines to her home.


Hartford Police Department wrote on Facebook: "Today, just a few of us (roughly 40) stopped by to see Emma. She had no idea we were coming so she was VERY excited. What an amazing and strong little girl. It was such a great morning."

Photos posted by both officers and Emma's parents, show police and the K-9s lined up to see Emma and cheer her up.

Her family wrote online on social media in response to the seven-year-old's special visit: "There are no words... Pure Joy! Thank you to everyone who took the time to organize and participate in this."

"Emma is still all smiles" her family added
---
Other News Stories you may like:
Montana Trooper Shot Three Times In Head, Face And Neck Is Fighting For His Life
NYPD Officer's Attempted Killer Captured After 20 Years On The Run
VIDEO: Officer pinned down by gunman, until SWAT Officers come to the rescue
---
 Are you a Thin Blue Line supporter? Shop our amazing collection of Thin Blue Line Products by clicking here
---