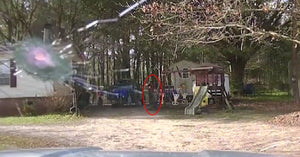 VIDEO: Officer pinned down by gunman, until SWAT Officers come to the rescue – Blue Lives Matter
Officials said the deputy was making a traffic stop when the situation escalated and Joseph Hart started shooting.

Officials released dashcam video on Wednesday of a February active-shooter situation that ended when deputies fatally shot the gunman (video below).

The incident began when a Berkeley County sheriff's deputy attempted to initiate a traffic stop on Feb. 26th.

The deputy had just arrived in the area responding to a call about a disturbance between neighbors related to a speeding issue when he saw 51-year-old Joseph Hart speeding away from the scene.

The situation escalated when the deputy pulled up into the driveway and got out of his vehicle.
---
---

In the video, the deputy took about two steps from the door towards the front of his vehicle with his weapon drawn before he spotted Hart hiding behind his vehicle and took cover.

Hart fired several shots at the deputy, including some that struck the police vehicle's windshield, the video showed.

"Let me get out of here," the deputy yelled at Hart, attempting to negotiate. "Sir, let me get out of here."

"Get ready to die, motherf--ker!" Hart yelled back.

Then Hart fired several more shots at the deputy, using multiple handguns, a shotgun, and a rifle.

Hart kept the deputy pinned down behind his patrol vehicle for 30 minutes before Goose Creek Police SWAT officers were able to bring in an armored vehicle to defuse the situation.

SWAT officers tried to get Hart to surrender but he shot at them.

Police returned fire and Hart was fatally shot.

Fortunately, no officers were injured in the gun battle.

Watch video of the incident below: 
---
Other News Stories you may like:
Hero Down - Colorado State Patrol Cpl. Daniel Groves Killed By Motorist
Hero Down - Philadelphia Police Lt. Juan Perez Succumbs To Cancer
VIDEO: Deputy saves Texas woman from burning trailer

---
 Are you a Thin Blue Line supporter? Shop our amazing collection of Thin Blue Line Products by clicking here
---