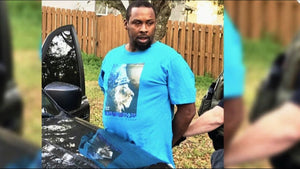 NYPD Officer's Attempted Killer Captured After 20 Years On The Run - Blue Lives Matter
Lester Pearson is awaiting extradition to New York after Jacksonville police and U.S. Marshals arrested him on Friday.

Police arrested an attempted cop killer who has been on the run since he tried to kill New York Police Department (NYPD) Officer Vincent Ling in 1999.

Jacksonville police and U.S. Marshals took 43-year-old Lester Pearson into custody without incident at a home on Broad Creek Lane at about 8:45 a.m. on Friday morning, WJXT reported.

"It was early. You hear a bunch of people screaming, 'Get on the ground,'" a nearby neighbor said. "You look outside and there's U.S. marshals on the street. It was just shocking and pretty scary."

Police discovered Pearson had been living in Florida under the false name of "Michael Davis" for years.
---
---

Police said Officer Ling was attacked in a dispute that involved Pearson dating the police officer's sister. During this, the officer was seriously wounded, and left paralyzed.

When this story was first reported, Police said Officer Ling eventually died from those injuries ; however, on Monday, NYPD issued a correction that said they had made an error.

Officer Ling was paralyzed in the shooting but is fortunately still alive, the New York Post reported.

Several states had warrants out on the attempted cop killer.

Pearson's next court appearance is March 29 and it is likely he will be extradited to New York.

NYPD Commissioner James O'Neill tweeted his thanks to the law enforcement officers who captured Pearson.

"Thanks to Jacksonville Officers & the US Marshals for capturing Mr. Pearson, who attempted to kill off-duty NYPD Officer Vincent Ling in 1999. Law enforcement professionals demonstrate time & again that we are patient, & that our collaborative forces have a very long reach."
A fugitive accused of killing an #NYPD officer 20 years ago has been captured in Florida. Lester Pearson, 43, who allegedly killed Officer Vincent Ling in 1999, was taken into custody at his Jacksonville home. pic.twitter.com/mawuqmEfGo

— NEWSDAY ATLANTA (@AtlantaNewsday) March 18, 2019
---
Other News Stories you may like:
VIDEO: Officer pinned down by gunman, until SWAT Officers come to the rescue
Hero Down - Colorado State Patrol Cpl. Daniel Groves Killed By Motorist
Hero Down - Philadelphia Police Lt. Juan Perez Succumbs To Cancer

---
 Are you a Thin Blue Line supporter? Shop our amazing collection of Thin Blue Line Products by clicking here
---