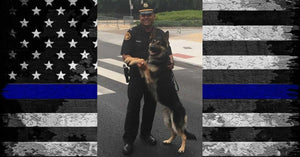 Hero Down - Philadelphia Police Lt. Juan Perez Succumbs To Cancer
Philadelphia Police Lieutenant Juan Perez served his department for three decades.

Philadelphia, PA – Philadelphia Police Department (PPD) Lieutenant Juan Perez passed away on Saturday, following a valiant battle with an aggressive form of cancer.

Lt. Perez, 49, was diagnosed with adrenal cancer in June of 2018, according to a fundraising page established to help his family.

He immediately underwent surgery to remove more than half of his liver, but further testing confirmed that the cancer had spread to his stomach, kidney, and lungs.

"Just a few short months away from your 50th... we never thought that we would need to say goodbye like this," his niece, Marissa Perez-Wood, wrote on his fundraising page. "Even during the darkest times these past few weeks, you inspired us."

Lt. Perez, a 30-year veteran of PPD, was "proudly serving in the K9 Unit at the time of his passing," his department said in a Facebook post on Monday.

Many of his fellow officers, as well as his partner, K9 Bane, stopped to visit him in his final days, photos and videos on the fundraising page showed.

"Commissioner Richard Ross and The Philadelphia Police Department are saddened by the passing of active duty Police Lieutenant Juan Perez," the agency's post read. "Our deepest sympathies to his family, friends, and colleagues."

Lt. Perez leaves behind his wife, Diana, as well as their three children, Tony, Adrian, and Kristina.

He will be laid to rest on Saturday, according to the department.

Our thoughts and prayers are with the family of Philadelphia Police Lieutenant Juan Perez, both blood and blue. Thank you for your service.

Rest easy, hero. We'll hold the line from here.
Today @PhillyPolice family says goodbye to our Brother Lt Juan Perez husband father officer supervisor K9 handler fantastic person, taken from us far to soon You fought your illness like the warrior you will always be in the memory of all of us who had the honor of knowing you pic.twitter.com/qZKZF7RFB4

— Joe Sullivan (@PPDJoeSullivan) March 9, 2019
---
Other News Stories you may like:
VIDEO: Deputy saves Texas woman from burning trailer
San Antonio PD Chief Fires Rookies Who Ran + Left Sergeant Alone In Gunfight
Hero Down - Midland Police Officer Nathan Heidelberg Fatally Shot By Homeowner

---
 Are you a Thin Blue Line supporter? Shop our amazing collection of Thin Blue Line Products by clicking here
---