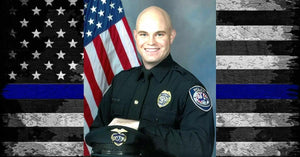 Hero Down - Midland Police Officer Nathan Heidelberg Fatally Shot By Homeowner – Blue Lives Matter
Midland Police Officer Nathan Hayden Heidelberg was killed in the line of duty on Tuesday, when he was shot by a homeowner while responding to a burglary alarm.

The incident took place at approximately 1:16 a.m., when Officer Heidelberg, 28, and Officer Victoria Allee responded to the 3300-block of Eagle Cove for a report of a burglary alarm, the Midland Reporter-Telegram reported.

When they arrived, the officers circled the outside of the residence on foot, and found nothing unusual, according to court documents.

That's when Officer Heidelberg realized the front door of the home was not secured, and notified dispatch, KOSA reported.

Two other officers arrived at the scene just in time to "hear [Officer] Heidelberg announce Midland Police Department," court documents read, according to the Midland Reporter.

Suddenly, a gunshot rang out.

One officer asked the other three if they were alright, and everyone responded that they were, KOSA reported.

He said he then heard a noise, and saw Officer Heidelberg lying face down on the ground.

Realizing that Officer Heidelberg had been shot just above his vest, the assisting officer attempted to deliver life-saving care before the wounded officer was rushed to Midland Memorial Hospital.

Officer Heidelberg succumbed to his gunshot wound at approximately 2:20 a.m.

The homeowner, later identified as David Charles Wilson, later admitted that he "fired a handgun in the direction of Officer Heidelberg" from inside the home, his arrest affidavit read.

According to an internal department email, Wilson said he thought someone was breaking into his home, so he fired towards the illuminated flashlight Officer Heidelberg was holding.

Wilson has been charged with second-degree manslaughter, and was released from jail on $75,000 bond, according to the Midland Reporter.

"We would like to express our deepest sympathies to Officer Heidelberg's family and the Midland Police Department for the events that lead to his death," Wilson's attorney, Brian Carney, told KOSA. "David Wilson believed that his family was experiencing a home invasion and only fired his weapon to protect his family."

The Texas Rangers are handling the ongoing investigation into Officer Heidelberg's death.


Deputy Chief Michael Hedrick said that the past 24 hours have been a "nightmare" for his department.

"Words can't describe how painful it is to lose a friend, lose a colleague…", Chief Hedrick said. "You train with these guys, you eat with these guys, you pray with these guys, you know their families. We're in mourning."

"It's very painful. It shocks right through the core of our system," he added.

"[He] represented the best in all of us," Midland Police Chief Seth Herman said. "He was courageous, selfless, ethical and professional."

"We have lost not only a great officer, but a loving brother and the most positive example of what we should all aspire to be. I wish I was more like Nathan."

In a Facebook post, Midland Mayor Jerry Morales asked for flags to be flown at half-staff "in remembrance of Officer Heidelberg and all those fallen in the line of duty."


Our thoughts and prayers are with the family of Midland Police Officer Heidelberg, both blood and blue. Thank you for your service.

Officer Nathan Heidelberg, your life mattered.
---
Other News Stories you may like:
Hero Down - Chattanooga Police Sgt. John Monroe Dies Unexpectedly At Home
Only 1 friend attended this 6-year-old boy's birthday party. Then firefighters showed up
VIDEO: Gunman Opens Fire On Deputy, And She Narrowly Escapes

---
 Are you a Thin Blue Line supporter? Shop our amazing collection of Thin Blue Line Products by clicking here
---