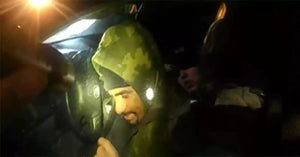 VIDEO: Gunman Opens Fire On Deputy, And She Narrowly Escapes - Blue Lives Matter

Napa Valley County, CA – The Napa Valley County Sheriff's Office (NVCSO) has released dramatic bodycam footage that captured the moment a driver opened fire on a deputy (video below).

"It really can't get any more clear than this," Napa Valley County Undersheriff Jon Crawford told the Napa Valley Register. "It's graphic, it's brutal, it's sudden. Realistically it's just a great reminder that we need to stay vigilant."

The incident began at 10:59 p.m. on Sunday, when Napa Valley County Sheriff's Deputy Riley Jarecki noticed a parked red Honda facing the wrong direction along a rural section of Henry Road.

The lone deputy approached the car and spoke with the driver – 43-year-old Javier Hernandez.

From her position outside the partially-opened passenger side window, Deputy Jarecki asked Hernandez if she could "look around" the vehicle, bodycam footage showed. She asked him to stay put and not move.

The deputy circled around the back of the car, shining her flashlight inside, and then stopped at the driver's side window.

She knocked on the glass, and asked Hernandez to roll the window down.

He hesitated for a moment, so Deputy Jarecki repeated her request.

Hernandez scanned the area around him before he finally pressed on the electric window button and opened the window.

Before she could reply, Hernandez drew a .22-caliber revolver and immediately fired at least one round directly at the deputy.

Deputy Jarecki immediately backed away and circled behind the car while alerting over the radio that there had been "shots fired".

Hernandez started the vehicle's engine as Deputy Jarecki made her way to the passenger side and returned fire.

Hernandez Morales was pronounced dead at the scene, the San Francisco Chronicle reported.

The Napa County Major Crimes Task Force is handling the ongoing investigation into the shootout. Deputy Jarecki was uninjured in the attack, and has been placed on administrative leave, as per protocol.
"Hernandez fired from close proximity, essentially without warning, and it's pretty obvious to us he intended to harm her," Undersheriff Crawford told the San Francisco Chronicle on Wednesday.

"I'm gonna call it divine intervention" that she wasn't hit during the attack, Undersheriff Crawford told the Napa Valley Register..

"That was a pretty violent, shocking thing," Sheriff John Robertson agreed. "Nobody wants to use lethal force, nobody even wants to use their gun…"

"The loss of life is something that we always take very seriously, either by this agency or by any other law enforcement agency," Undersheriff Crawford told KGO. 

"We are proud of the deputy's composure and her fight to save her life," and that she was able to go home safely, he added.

Deputy Jarecki was sworn in as a NVCSO deputy on June 20, 2018, following in the footsteps of her father and grandfather, according to a department Facebook post.

You can watch bodycam footage of the harrowing encounter in the video below:
(WARNING - Graphic Content)
---
Other News Stories you may like:
Despite wheelchair, man steps up to aid assaulted cop
Country Music Star Miranda Lambert Marries NYPD Officer In Secret Ceremony
Cop brings waitress to tears with generous tip

---
 Are you a Thin Blue Line supporter? Shop our amazing collection of Thin Blue Line Products by clicking here
---