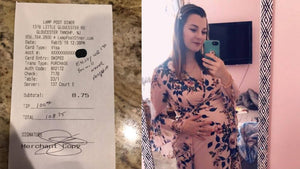 Cop brings waitress to tears with generous tip
Cop surprises pregnant waitress with $100 tip on $8.75 bill: 'Beautiful human being'

A 23-year-old mom-to-be was waiting tables at a New Jersey diner last Friday when she spoke to a group of diners about expecting her first child, a girl who is due April 1.

Another customer, a local cop who has chosen to remain anonymous, evidently overheard the conversation. And while he didn't comment on waitress Courtney English's pregnancy during his meal at the Lamp Post Diner in Gloucester Township, N.J., the generous tip he left behind has blown her away.

As NJ Advance Media reports, English discovered that the Voorhees Township officer — whom her manager describes as a "really nice guy" who "usually just eats alone and leaves" — left a $100 tip on his $8.75 bill. His handwritten note explains the generosity: "Enjoy your first. You will never forget it."



English and her family won't forget this act of kindness, either. Her father, Brian Cadigan, shared his gratitude in a post on Facebook, noting that he wanted to share a positive story about a police officer.

"My daughter is a waitress at a local diner," Cadigan wrote. "She is also 7 months pregnant and working still to save as much money as she can. This will be her first child and she is so excited. She is always cheerful at work, so she has a lot of regulars, but this was not one of them."

"Yesterday she was working the lunch shift when a Voorhees [Township] police officer came in. He was pleasant, and had his lunch by himself, and asked for the check. My daughter gave him his check, and moved on to wait other tables. The officer went to the cashier and paid his bill, and left a note on the bill for my daughter. This officer, who I am sure works his butt off for his paycheck, left her a $100 tip…"

"What a wonderful person to not only leave a VERY generous tip, but a lovely message. I don't know you Mr. Police Officer, but you made my little girl cry, and made her year," Cadigan added. "Thank you. I always had the utmost respect for officers, but you went above and beyond not just an officer, but a beautiful human being."

English, who plans to name her daughter Kayleigh, said the large tip took her aback.

"We didn't really even talk," she told NJ Advance Media. "I brought him his menu, he ordered a salad and I got it for him. I was telling the people at the table behind him that it was my first baby."

Though the officer reportedly wishes to keep his identity secret, he and English apparently have something in common: parenthood. According to English, the officer has himself recently welcomed his first child.
---
Other News Stories you may like:
Oklahoma family asking for birthday cards for a WWII veteran
Worldwide Donations Pay Off Mortgage For Cpl. Singh's Family After His Murder
VIDEO: Too cute - Police officer rescues tiny kitten from interstate wall

---
 Are you a Thin Blue Line supporter? Shop our amazing collection of Thin Blue Line Products by clicking here
---