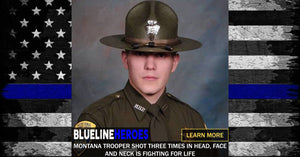 Montana Trooper Shot Three Times In Head, Face And Neck Is Fighting For His Life
The wife of Montana Highway Patrol (MHP) Trooper Wade Palmer said that her husband has not regained consciousness since he was shot three times while searching for a gunman on Friday morning.

The suspect, 29-year-old Jonathan Bertsch, also shot three citizens in an earlier "road rage" incident in Missoula, killing one of them, according to court documents.

Multiple agencies joined the massive manhunt for the gunman.

Less than an hour later, at 12:12 a.m., shots rang out on Evaro Hill.
---
---

Trooper Palmer radioed dispatch to advise that he was "under fire" near the Evaro Bar on Highway 93, but the dispatcher was subsequently unable to reach him by radio.

"Trooper Alex Hiday was the next officer to arrive on scene," the MHP said in a press release later that day. "[Trooper] Hiday found [Trooper] Palmer still seat-belted in his patrol car and that he had been shot."

Bertsch had already fled the scene prior to the trooper's arrival.

A Missoula County sheriff's deputy later apprehended the gunman on Grooms Road at 4:24 a.m., after a citizen called 911 to report that a white Escalade was parked in the area.

Trooper Palmer, 35, was airlifted to a hospital in Salt Lake City later in the day.

Trooper Palmer's family has been constantly surrounded by Montana and Utah law enforcement officers since they arrived at the hospital.
The law enforcement community in Utah has been taking good care of Wade, his family and Cpt. Kitchin & Sgt. Finley who are with him in Salt Lake. There has been someone outside his room around the clock including his surgery room. #mtnews pic.twitter.com/CZuducoiBa

— Montana Highway Patrol (@MTHwyPatrol) March 16, 2019


Trooper Palmer's wife, Lindsey, expressed her appreciation for the outpouring of support in a statement on Monday.

"I want to extend my sincere gratitude to Montana and Utah for all of their support, and to all of the caring people throughout the nation that have offered prayers and positive messages," she said.

"To all the Brothers & Sisters in Blue, words cannot express the appreciation we have for all that you have done & for reaching out," Lindsey said. "Knowing that our communities are coming together at our time of need is a great comfort."
One of the amazing officers (USFS Schiedel) helping out with occupying the kids with his K-9, so parents can spend time with Wade.  He is from Billings now stationed in SLC. (Shared with permission). pic.twitter.com/jvQsZUALZ2

— Montana Highway Patrol (@MTHwyPatrol) March 17, 2019


A fundraising campaign established to assist Trooper Palmer and his young family has raised over $150,000. 

We pray for Trooper Palmer and his family, both blood and blue, as they go through this difficult time. Have faith and stay strong!! 
---
---
---
Other News Stories you may like:
NYPD Officer's Attempted Killer Captured After 20 Years On The Run
VIDEO: Officer pinned down by gunman, until SWAT Officers come to the rescue
Hero Down - Colorado State Patrol Cpl. Daniel Groves Killed By Motorist

---
 Are you a Thin Blue Line supporter? Shop our amazing collection of Thin Blue Line Products by clicking here
---
2 comments