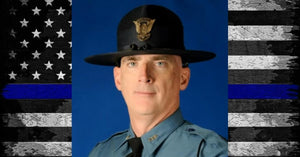 Hero Down - Colorado State Patrol Cpl. Daniel Groves Killed By Motorist
Weld County, CO – Colorado State Patrol (CSP) Corporal Daniel Groves was killed in the line of duty on Wednesday, when he was struck by a passing vehicle as he was assisting a driver who slid off of the roadway.

The fatal collision occurred on Interstate 76 near mile marker 47 at approximately 11:20 a.m., KDVR reported.

Cpl. Groves, 52, was outside of his cruiser, helping a driver who slid off of the road during the relentless blizzard, when a 2001 Volvo slammed into him from behind.

Investigators said they believe the driver, later identified as 58-year-old John Carpenter, may have been traveling too fast for the road conditions.

The 12-year veteran-of-the-force was rushed to Platte Valley Medical Center, where he was pronounced dead a short while later.

Carpenter sustained moderate injuries during the crash, and was also transported to the same medical center.

"Folks can see overhead lights flashing and first responders alongside the road, [but] they don't slow down," Jefferson County Sheriff's Sergeant Jim Parr told KDVR. "It just boggles my mind why they would not take the time to slow down and to protect those folks that are out there, trying to keep them safe."
---
---
No charges have been filed in the case, and the exact cause of the crash remains under investigation.
Colorado Governor Jared Polis has ordered that flags be lowered to half-mast in honor of Cpl. Groves' service and sacrifice, KCNC reported.
"We mourn the loss of Corporal Groves and keep his loved ones in our thoughts and prayers," Polis said. "Corporal Groves passed away helping a driver in need — a tragic reminder that every single day, the men and women of the Colorado State Patrol put their lives on the line to keep Coloradans safe. We cannot thank them enough for their service, their sacrifice, and their dedication to our state."
U.S. Senator Michael Bennet said that Cpl. Groves worked to protect others until the very end.
"This is a tragic loss for our community," Bennet tweeted. "My deepest condolences are with the family & loved ones of Corporal Daniel Groves, whose final moments were spent helping others."
Never forgotten. 💙 pic.twitter.com/8ISdvzA3eq

— CSP Public Affairs (@CSP_News) March 14, 2019


Cpl. Groves leaves behind his partner of two years. Our thoughts and prayers are with the family of Colorado State Patrol Corporal Daniel Groves, both blood and blue. Thank you for your service.

Rest easy, hero. We'll hold the line from here.
---
Other News Stories you may like:
Hero Down - Philadelphia Police Lt. Juan Perez Succumbs To Cancer
VIDEO: Deputy saves Texas woman from burning trailer
San Antonio PD Chief Fires Rookies Who Ran + Left Sergeant Alone In Gunfight

---
 Are you a Thin Blue Line supporter? Shop our amazing collection of Thin Blue Line Products by clicking here
---