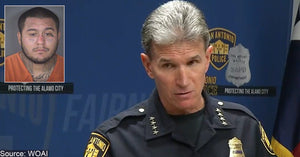 San Antonio PD Chief Fires Rookies Who Ran + Left Sergeant Alone In Gunfight
San Antonio Police Chief William McManus said the terminated rookies belonged in a different career field.

San Antonio, TX – Two San Antonio police officers were fired after they ran away from an officer-involved shooting on Monday.

San Antonio Police Chief William McManus told WOAI that the probationary officers were riding with Sergeant Steven Castillo at about 2:50 a.m. on March 4 when he responded to a disturbance at a home on Spring Dale Street.

Officers arrived at the residence to learn that parents had called them for help in getting their son, Daniel Moncada, under control.

They said their 27-year-old son was "throwing things around the house causing a disturbance."

Sgt. Castillo led his probationary officers to Moncada's bedroom, where he confronted the man, according to WOAI.

Detectives said that Moncada opened fire with a shotgun at Sgt. Castillo.

Sources later told WOAI that the two probationary officers had run away when the shooting started.

Moncada was hit multiple times in the gun battle with the sergeant. An ambulance transported Moncada to University Hospital where he later died, the San Antonio Express-News reported.

Chief McManus called the incident an "unavoidable shooting."

On Wednesday, Chief McManus said he had terminated both probationary officers. He also said they were not facing any criminal charges for their behavior at the scene of the shooting.
"I felt it best that these two officers need to look for another profession," Chief McManus said.

"We expect officers to react in a certain way and it didn't happen," the chief said. "In order to protect SAPD officers we felt it best to let these officers go."

Sgt. Castillo, a 26-year veteran of the force, was placed on administrative duty while the officer-involved shooting is investigated, as is protocol, WOAI reported.
---
Other News Stories you may like:
Hero Down - Midland Police Officer Nathan Heidelberg Fatally Shot By Homeowner
Hero Down - Chattanooga Police Sgt. John Monroe Dies Unexpectedly At Home
Only 1 friend attended this 6-year-old boy's birthday party. Then firefighters showed up

---
 Are you a Thin Blue Line supporter? Shop our amazing collection of Thin Blue Line Products by clicking here
---