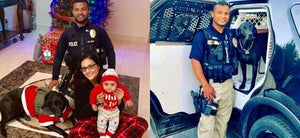 Worldwide Donations Pay Off Mortgage For Cpl. Singh's Family After His Murder
A foundation established in honor of a fallen 9/11 firefighter has raised hundreds of thousands of dollars in order to pay off the mortgage of slain Newman Police Department Corporal Ronil Singh.

Cpl. Ronil Singh, 33, was murdered in the line of duty the day after Christmas, after he checked out on a traffic stop at 12:57 a.m. with a DUI suspect. The suspect was later taken into custody after a two day manhunt.

Since then…

Donors have given the "Stephen Siller Tunnel to Towers Foundation" $350,000 to help support Cpl. Ronil Singh's family.

The "Stephen Siller Tunnel to Towers Foundation" has collected $350,000 from generous donors – enough to pay off Cpl. Singh's home and to help establish an educational fund for his 5-month-old son, the foundation's CEO announced in an interview on Monday.

During a TV appearance the week prior, CEO Frank Siller asked supporters to make donations on behalf of Cpl. Singh's widow, Anamika, and their infant son.

"I think most Americans were moved by it, moved by this story and we gave a platform for Americans to step up and do something positive," Siller said.

Singh was gunned down on Dec. 26 during a traffic stop. The primary suspect in the case, 32-year-old Gustavo Arriaga, has been charged with Singh's murder.

"It just broke our hearts," Siller said. "We knew once again that we had a call to action and we wanted to alleviate this family — this burden of a mortgage."

"We must come together… and make sure that they know their families are going to be taken care of. I think that that should be our promise to their families," Siller said.

Donors from all 50 states – as well as Canada, Great Britain, Hong Kong, Armenia, New Zealand, Israel, and the Aland Islands – answered Siller's call.

"I am very proud to announce…that we not only reached the $300,000 to pay off the mortgage, [but] because of the generosity of Americans we went over that [and] were able to give them an extra $50,000 for [their son's] educational needs," Siller said in Monday's update.

But pro-police supporters didn't stop there.

Many of those who donated specifically to Cpl. Singh's family, also pledged to give $11 per month to help the families of Law enforcement officers and Firefighters killed in the line of duty, Siller said.

"I couldn't be more grateful…that we've been able to raise all this money [and] relieve that burden for this great family," he said.

Siller said that Anamika asked him to thank everyone who donated to the campaign on her family's behalf.

"She expressed such relief that she's never going to have to worry about this mortgage again and that there's other money to help her son," he explained.


"Tunnel to Towers" Foundation was established in honor of Siller's brother, New York Firefighter Stephen Siller, who was killed during the Sep. 11, 2001 attack in New York City.

Through the "Tunnel to Towers" Foundation, Stephen's family has assisted the families of many first responders who left young children behind when they died in the line of duty, by paying of their mortgages, he said.

Though the loss suffered by Cpl. Singh's family can never be replaced – Siller says Corporal Singh's widow was deeply moved by the overwhelming support. His sacrifice and service has resounded with hearts and minds across the world. Law enforcement officers risk their lives for us every day – without asking for anything in return – and it makes a difference to know that we appreciate and support them – and their families!
"Blessed are the peacemakers: for they shall be called the children of God." - Matthew 5:9
---
Other News Stories you may like:
VIDEO: Too cute - Police officer rescues tiny kitten from interstate wall
Ohio Police Untangle Trapped Buck from Soccer Net
New York Man Attacks Sheriff, Good Samaritan Intervenes

---
 Are you a Thin Blue Line supporter? Shop our amazing collection of Thin Blue Line Products by clicking here
---