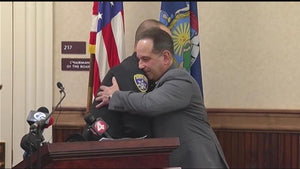 New York Man Attacks Sheriff, Good Samaritan Intervenes
Wyoming County (NY) Sheriff Gregory Rudolph was driving to work when a man began to tailgate him, flashing his lights. Sheriff Rudolph pulled over to see if the other driver needed assistance. That's when Rudolph came under attack.
The driver—identified as 48-year-old Lynn Hall—exited his vehicle, approached Rudolph, and reportedly attempted to get the sheriff's gun.
A Buffalo News newspaper delivery driver, John "Jack" Harzynski, subsequently intervened, helping Rudolph to take Hall into custody.
Hall is charged with attempted first-degree murder, attempted first-degree assault, and second-degree criminal possession of a weapon, which are felonies, as he allegedly tried to stab Rudolph during a physical altercation.
Harzynski gave his account of the incident, which occurred while he was delivering newspapers for The Buffalo News.
"Way on the other side of the road there were two men wrestling, and for whatever reason I turned the car around. When I got out, I heard 'help, help,'" said Harzynski inside the Supervisors Chambers in Wyoming County.
Harzynski was able to pull Hall off the sheriff, who in turn tackled the suspect and placed him under arrest.
The incident forged an unexpected friendship between the two men.
Harzynski was being presented with the Liberty Medal, one of the highest awards a civilian can receive in the state of New York.
Harzynski says the real "Hero" is Sheriff Rudolph for what he does every day in law enforcement.
Sheriff Rudolph said in a statement: "I am very fortunate to live and work in such a kind and caring community and to have such support from loved ones, family, friends and peers".
---
Other News Stories you may like:
Hero Down: Provo Police Officer Joseph Shinners Fatally Shot By Wanted Fugitive
Florida Teen Delivers Hand-Made Stuffed Toy Bears to Families of Fallen LEOs
Arkansas Officer Heroically Saves One-Year-Old Girl from Armed Man

---
 Are you a Thin Blue Line supporter? Shop our amazing collection of Thin Blue Line Products by clicking here
---