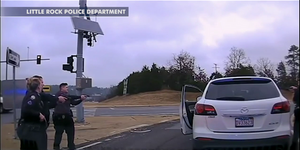 Arkansas Officer Heroically Saves One-Year-Old Girl from Armed Man
Officers with the Little Rock (AR) Police Department effected a high-risk felony stop of a man reported to be armed, holding his 1-year-old daughter hostage in a small SUV. 
"Don't do this with your baby," one officer said in the video.
Police said 43-year-old Farris Deloney had shot at the baby's mother during an argument over custody at a nearby Walmart.
"He was picking up the kids and an argument ensued and that's when shots were fired," said Lieutenant Michael Ford.
Officers chased Deloney for miles before he stopped the white SUV. He was still holding the gun when they approached the vehicle, and realized his daughter was in the passenger seat.
"It ain't worth it. Look, that baby girl's gonna grow up and you're going to be there. You're going to be there every step of the way," one officer said.
In the video, Officer Brittany Godfrey reached into the passenger side of the SUV to pull the girl to safety, while officers trained their weapons on its driver.
Deloney eventually walked out of the SUV with his hands up and surrendered without further violence.
He was charged with kidnapping, aggravated assault and endangering the welfare of a minor, and has pleaded not guilty.
Thank you to all our Arkansas Officers – what you do makes a difference!
You can watch the video below: 
---
Other News Stories you may like:
New Hampshire Agency Adds Police Dog to Reduce Stress for Victims and Officers
Suffolk police officer goes above, beyond for couple's wedding day
Department Retires Cpl. Singh's K9 Partner So She Can Comfort His Widow And Son

---
 Are you a Thin Blue Line supporter? Shop our amazing collection of Thin Blue Line Products by clicking here
---