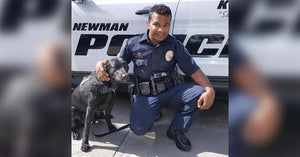 Department Retires Cpl. Singh's K9 Partner So She Can Comfort His Widow And Son
"I will not take another member of that family from them," Newman Police Chief Randy Richardson said.

Newman Police Department K9 Sam, the four-legged partner of slain Newman Police Corporal Ronil Singh, will be retiring from the force to live out her days in the company of the corporal's widow and five-month-old son.

"Sam is already back home, with the Singh family, where Sam belongs," Newman Police Chief Randy Richardson said during an emotional press conference on Thursday.

Although K9 Sam would likely be able to work for several more years, the department believes it is best for her to retire and remain with her family, he said.

"I will not take another member of that family from them," Chief Richardson told reporters.

K9 Sam, who was on duty with Cpl. Singh at the time of the fatal altercation, was not injured during the attack.

"When I pulled Sam out of the car, [she] was wearing a Mrs. Claus outfit that he had put on her," Chief Richardson said. "It's just the kind of guy he was…Just to bring smiles to people's faces."

He imagined that Cpl. Singh would have loved having K9 Sam conduct a narcotics search in her festive outfit.

"He probably would've thought it was funny," the chief said.

Cpl. Singh often praised K9 Sam and kept the community updated on her latest cases through his posts on the Newman Police K9 Association Facebook page.

"My crazy partner turned 5 today," he wrote. "She is enjoying her patrol shift and enjoying her treats. Happy birthday Sam."

Chief Richardson described Cpl. Singh as a "true patriot," and said that he immigrated to the U.S. specifically to become a police officer.

"That's all he wanted to do," Chief Richardson said. "You've never seen a man smile more than him."

The last time he saw Cpl. Singh was at 4 a.m. on Christmas Day, as the chief was relieving him so he could go spend a few hours celebrating the holiday with his wife and infant son.

The fatal altercation began at 12:57 a.m. on Dec. 26, when Cpl. Singh checked out on a traffic stop at Eucalyptus Avenue with a DUI suspect later identified as 32-year-old Gustavo Perez Arriaga.

Just moments later, Cpl. Singh radioed there had been "shots fired" at the scene, and officers from multiple agencies immediately responded to his location.

They found Cpl. Singh, 33, suffering from multiple gunshot wounds.

He was rushed to a local hospital, where he was shortly after pronounced dead.

Arriaga fled the scene in a gray Dodge Ram pickup prior to other officers' arrival, leading to the two-day manhunt.

Arriaga was apprehended in Bakersfield on Friday, as he was attempting to flee. Six other suspects accused of aiding in his attempt to escape from the United States have also been arrested.

We are all brothers in Blue and when one is hurt or injured, we all feel the pain. Forever, will you and your family be in our thoughts and prayers. Rest In Peace Brother. You lived the life of a hero, and You will never be forgotten!
---
Other News Stories you may like:
Police post heartbroken pics of Krispy Kreme doughnut truck lost in fire
Michigan Officers Stop Cars to Give Children Christmas Eve Gifts
VIDEO: Florida Officers Join Mall Flash Mob

---
 Are you a Thin Blue Line supporter? Shop our amazing collection of Thin Blue Line Products by clicking here
---