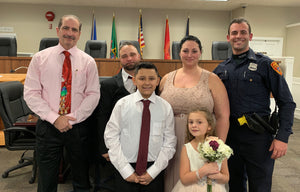 Suffolk police officer goes above, beyond for couple's wedding day
An officer with the Suffolk County (NY) Police Department was called to respond to a traffic collision over the weekend, discovering upon arrival at the scene that the occupants of the vehicle had been en route to their wedding at the time of the crash.
Nobody was injured in the incident, but the Jeep Grand Cherokee was badly disabled, leaving the couple and their two children no way to get to the Town Hall where the nuptials were scheduled to take place.
That's when Officer Cody Matthews offered to give them a ride to the big event in his patrol vehicle.
According to the New York Post, Matthews even acted as an officiant in the ceremony, and signed the couple's wedding certificate.
Matthews said he could empathize with the couple because he is getting married in June to his fiancee, Alyssa Cagna.
"I also have my own wedding coming up in six months," he said. "I know how stressful weddings can be."
The DeMicheles said they have been overwhelmed by friends, relatives and well-wishers from around the country who have contacted them after their story went viral – and said they will forever be grateful to Officer Matthews: "We were one man down, and he wound up being that man to save the day,".
Way to go Officer Matthews! :)
---
Other News Stories you may like:
Department Retires Cpl. Singh's K9 Partner So She Can Comfort His Widow And Son
Police post heartbroken pics of Krispy Kreme doughnut truck lost in fire
Michigan Officers Stop Cars to Give Children Christmas Eve Gifts

---
 Are you a Thin Blue Line supporter? Shop our amazing collection of Thin Blue Line Products by clicking here
---