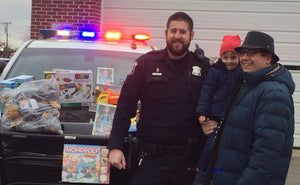 Michigan Officers Stop Cars to Give Children Christmas Eve Gifts
Plymouth, MI, police officers conducted a very special operation recently.
They made an unusually high number of traffic stops on Christmas Eve.
But Officers Josh Carroll and Mark Farhat weren't writing tickets or even issuing friendly warnings.
Instead, they were stopping drivers who were ferrying young ones around on holiday outings or last-minute errands, then surprising the children with Christmas gifts.
"We have everything from teddy bears to Barbies," said Carroll, a 14-year Plymouth Police Department veteran.
"Ultimately we're here to help people out, and if we can spread a little holiday cheer in everyone's life by giving some presents, we're happy," Carroll added.
They say it's all about building positive relationships with the community.
Officers on the job often are interacting with people who aren't at their best, Carroll said, so it's a boost for officers to have some happier encounters with families in the community.
"This gives us an opportunity to be out there and give back" and make a good impression on people, said Farhat, a seven-year Plymouth officer.
Thank you for spreading the holiday cheer Officers! Please stay safe, and we hope you get to spend some quality time with your families over the holidays as well!
View the video below:

---
Other News Stories you may like:
VIDEO: Florida Officers Join Mall Flash Mob
Hero Down: Henry County Officer Michael Smith Succumbs To Gunshot Wound
Pa. man fires at police, surrenders after Christmas carol sung to him

---
 Are you a Thin Blue Line supporter? Shop our amazing collection of Thin Blue Line Products by clicking here
---