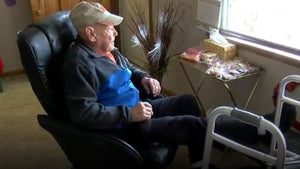 Oklahoma family asking for birthday cards for a WWII veteran
A World War II veteran is turning 93, and his family wants to surprise him...
MARLOW, Ok. — A World War II veteran from Marlow, Oklahoma is turning 93 on April 17th and his family is trying to get cards sent to him for his birthday as a surprise.
Daughter Liz Anderson tells CBS affiliate WIBW her dad Recil Troxel loves getting any kind of mail, and is obsessed with checking the mailbox.
"He sits here in his chair looking out the window every day," Anderson said.
"When the mail is here, he's like the mail is here, we better go get the mail."
But, it's not very often Troxel finds something in there for him.
"I don't get mail anymore," he said.
While Troxel's birthday is in April, his family wanted to start his celebration early so he can get enjoyment from one of his favorite things.
"It's exciting when he gets it because he will sit there and hold it" Anderson said.
"Sometimes he won't open it for an hour or two. Other times, he has a knife in his pocket, and he pulls that knife out and rips that letter open to see what it is."
The WWII veteran is currently undergoing cancer treatment, and his family just wants to make him happy.
If you'd like to send him a card, you can mail it to:
2684 North Highway 81
Marlow, Oklahoma 73055
Please share this story with friends and family - let's make this amazing Veteran's birthday special - and one that he will never forget. He sacrificed so much for us - and we can do something small in return - but it will make his day and one that he will always remember!
---
Other News Stories you may like:
Worldwide Donations Pay Off Mortgage For Cpl. Singh's Family After His Murder
VIDEO: Too cute - Police officer rescues tiny kitten from interstate wall
Ohio Police Untangle Trapped Buck from Soccer Net

---
 Are you a Thin Blue Line supporter? Shop our amazing collection of Thin Blue Line Products by clicking here
---