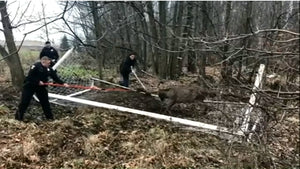 Ohio Police Untangle Trapped Buck from Soccer Net
Officers John Fink and Jeremy Puhac of the Brunswick (OH) Police Department were called to assist animal control officers who were unable to free a deer entangled in a soccer net.
The officers arrived at the scene to find that the deer had dragged the net off the playing field, and behind some houses, in an attempt to free itself.
The officers quickly worked with residents form the nearby area to detangle the net - using tree-trimming equipment to cut the netting loose from the animal's antlers.
The buck was soon free — until it got caught on the other side of the soccer net as it tried to run away.
Again, the police officers and some onlookers worked to cut the deer from the netting until he successfully broke free.
Once freed, the deer took off and ran back into the wild – fortunately without having sustained any injuries. As it was about to enter the forest, it paused, and turned back, as if to thank the officers and residents that had just helped – before resuming its foray back into the wild.
Great job Officers Fink and Puhac! Another day... another life saved :)
You can watch the dramatic rescue below:
---
Other News Stories you may like:
New York Man Attacks Sheriff, Good Samaritan Intervenes
Hero Down: Provo Police Officer Joseph Shinners Fatally Shot By Wanted Fugitive
Florida Teen Delivers Hand-Made Stuffed Toy Bears to Families of Fallen LEOs

---
 Are you a Thin Blue Line supporter? Shop our amazing collection of Thin Blue Line Products by clicking here
---