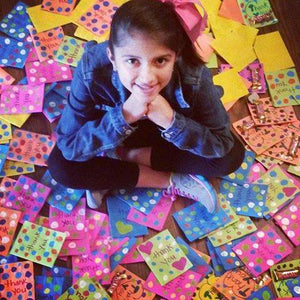 10-Year-old Girl Thanks Police Officers With Hand Made Cards
A fourth grader in Tyler, Texas has made 200 thank you cards and delivered them to law enforcement officers around Smith County, Texas.
Savannah Solis, who attached candy bars to each card, said she just wanted them to know she was "thankful for what they do every day."
Inside the note reads, "Dear police officer, My name is Savannah Solis, and I am 10-years-old. I just want to say thank you for taking care of us every day. You are my heroes. I'm so glad we have you. You're so brave, too. I pray that God will protect you. Please keep watching out for us, Love Savannah."
She has been hand delivering the cards so she can meet the officers in person, and collecting autographs. She said she was also sending notes of gratitude to the New York City Police Department.
Whitehouse, TX Police Chief Craig Shelton told the Tyler Morning Telegraph, "It really touched me. When I was reading the card, she was sitting across from me with a beautiful little smile on her face, it choked me up."
She has since thanked officers in 22 states, including Arkansas, and now made more than 6,000 thank-you cards.
Savannah says she wants to show officers that she recognizes all that they do for their communities, and let them know that young people, like her, understand the sacrifices they make.
Branson officers say Savannah's message inspires them to continue to work to protect the area, and it's encouraging to know they're supported.
 "We live in an amazing community that shows appreciation every day, but for her to come from Texas to say thank you to us I think was amazing," Sergeant Jennifer Easton said.
"To my heroes, I want to say, 'Don't stop. Please don't give up,'" the girl told officers. "Many do not care or appreciate the sacrifices you make every day, but I do. ... Officers of New York City, you matter to me. Officers all across America, you matter to me."
If you would like, you can also follow Savannah on Facebook at "Help Savannah Say Thank You".
---
Other News Stories you may like:
Good Samaritan helps police end vehicle pursuit
VIDEO: Florida Officers Join Mall Flash Mob
Michigan Officers Stop Cars to Give Children Christmas Eve Gifts

---
 Are you a Thin Blue Line supporter? Shop our amazing collection of Thin Blue Line Products by clicking here
---