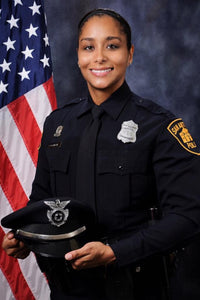 San Antonio PD welcomes FIRST female SWAT team member
The department's social media pages highlighted Pearla Dominquez as the "first female to successfully complete the SWAT tryout process and be selected to the SWAT Unit."


On Monday, San Antonio PD announced the additions of officers Perla Dominquez and Marshall Davis to the SWAT unit.

The department was not immediately available to comment on how many members make up the team, or confirm if Holly Vizcarrondo, who many noted was another woman who previously made SWAT, came before Dominquez. SAPD said those questions will be answered during a press conference on Wednesday.

Vizcarrondo replied to those mentioning her name, saying "let the youngster have her well-earned limelight!! This is her day! Mine was almost 30 yrs ago."

Nirenberg also congratulated the two officers online.

"Remarkable, history-making achievement," he posted on Facebook. "Congrats, officers. Thank you for serving the #SanAntonio community."

SAPD's website has a dedicated page for women in the force including testimonials.

"All policewomen receive the same training as their male counterparts, which enables them to move into a variety of areas within the department without the barriers often experienced in other occupations," the department website reads.

Congratulations to Officer Perla Dominquez! You are a great role model for young women across the country, and we are very proud of you!
---
Other News Stories you may like:
Gunman Who Shot Three Texas Cops Today Is Dead - Blue Lives Matter
Good Samaritan helps police end vehicle pursuit
Okla. Police thwart attempted kidnapping of woman at Walmart

---
 Are you a Thin Blue Line supporter? Shop our amazing collection of Thin Blue Line Products by clicking here
---