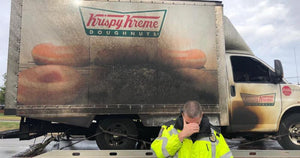 Police post heartbroken pics of Krispy Kreme doughnut truck lost in fire
Stereotypes are usually damaging, hurtful assumptions, and we don't endorse them in any way. But every once in a while, they can still be a benign source of humor, as was the case in Lexington, Kentucky, on Monday, when police responded to a Krispy Kreme doughnut truck that was destroyed by fire.
The driver of the truck noticed the smoke coming and exited the vehicle quickly, so there were no injuries in the dramatic midday accident, according to local station LEX 18, though all the doughnuts it was transporting were destroyed. That left the door open for the police on the scene to poke fun at the old joke about their love of the sugary treats.
"No words," read the Facebook post from the Lexington Police Department, featuring three photos of the officers who responded to the call looking forlorn at the loss of the truck.
Followers responded with quick-witted responses of their own, including from fellow law enforcement officials.
"This literally hurts my soul. Prayers to LPD as they deal with this loss. #IDonutThinkWeCanRecoverFromThis," the Louisville Police Department commented on the post.
"Our hearts break for you. You have all our support. Come to the Rockies and partake of all our donuts. Just, uh…maybe avoid the brownies, mmkay?" quipped the Colorado State Patrol.
According to Michael Krondl's historical tome The Donut, the police-love-doughnuts lore got its start in the very real habit cops had of hanging out in the bakeries that were the only places open in the wee hours of the morning. Also, we assume, because doughnuts are delicious.
Story by Yahoo News
---
Other News Stories you may like:
Michigan Officers Stop Cars to Give Children Christmas Eve Gifts
VIDEO: Florida Officers Join Mall Flash Mob
Hero Down: Henry County Officer Michael Smith Succumbs To Gunshot Wound

---
 Are you a Thin Blue Line supporter? Shop our amazing collection of Thin Blue Line Products by clicking here
---