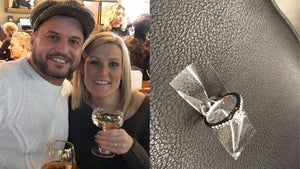 NYPD finds couple who lost engagement ring in Times Square
The couple lost their engagement ring after it fell into a utility grate in Times Square on Friday night
He can finally put a ring on it.

After seeking the public's help, police have found the couple who lost their engagement ring after it fell into a utility grate in Times Square on Friday night, according to the NYPD.

The couple had gotten engaged in Central Park earlier Friday, according to The New York Times. But the ring was too big and it slid off the woman's finger as they walked on Seventh Avenue, near West 47th Street, shortly before midnight. It fell into a utility grate and landed 8 feet down, police said.

Video released by police shows the couple desperately trying to recover the ring.


Officers responded, but the ring was not found, so the couple left, police said.

But on Saturday morning at 10:30, the ring was recovered by the NYPD Emergency Service Unit.

Using social media, the NYPD identified the man and woman, John and Daniella from England, who had already left the country, and are working out a plan to return the ring to them, police said.


"Congrats to John and his betrothed, Daniella," NYPD Commissioner James O'Neill tweeted. "All's well that end's well."


Thank you to the New York PD for helping yet another story have a happy ending! And congratulations to the new couple – you clearly have good fortune on your side :)
---
Other News Stories you may like:
San Antonio PD welcomes FIRST female SWAT team member
Gunman Who Shot Three Texas Cops Today Is Dead - Blue Lives Matter
Good Samaritan helps police end vehicle pursuit

---
 Are you a Thin Blue Line supporter? Shop our amazing collection of Thin Blue Line Products by clicking here
---