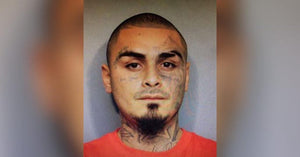 Gunman Who Shot Three Texas Cops Today Is Dead - Blue Lives Matter
Daniel Trevino won't be hurting anybody else.
The gunman who shot a Harris County Sheriff's Office deputy and two officers with the Texas Attorney General's office has been found dead.

The shooting started at around 12:50 p.m. Tuesday at 5013 Hartwick Rd, according to the sheriff's office.

The three law enforcement officers were attempting to take 25-year-old Daniel Trevino into custody on a warrant for violating a protection order.

Trevino's ex-girlfriend had obtained a protection order after he allegedly threatened to kill her and her children. After she got the protection order, Trevino allegedly showed up and assaulted her.

When the three officers made contact with Trevino, he shot one of the AG officers in the face, torso, and leg and the other AG officer in the foot. He also shot the deputy in the hand, which will likely result in the officer losing a finger.

The officers returned fire as Trevino barricaded himself in the house.

All officers were transported to the hospital with non-life threatening injuries, according to Sheriff Ed Gonzalez.

A Harris County motorcycle deputy crashed while providing an escort to the ambulances and suffered non-life threatening injuries.

SWAT arrived and surrounded the house in an hours-long standoff in which no contact was made with Trevino.

The SWAT team eventually located Trevino dead of a self-inflicted gunshot wound, according to the Houston Chronicle.

Nobody important died during the incident.
---
Other News Stories you may like:
Good Samaritan helps police end vehicle pursuit
Okla. Police thwart attempted kidnapping of woman at Walmart
Poem: You say you are no Hero

---
 Are you a Thin Blue Line supporter? Shop our amazing collection of Thin Blue Line Products by clicking here
---