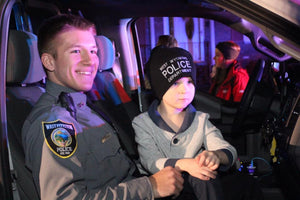 Cops give boy who once feared police, a birthday surprise
The officers delighted the six-year-old, who developed his fear of police in foster care, with numerous patches, gift cards, a police uniform and a motorized police cruiser.
Police lights and sirens flooded an otherwise quiet street Thursday evening, but this was no emergency.
Kim and Steve Gittens were playing with their children in the front yard of their home, when a half-dozen police cars approached.
About 15 officers from departments around the area, plus one canine detective, exited their vehicles and approached the Gittens family bearing gifts for the unsuspecting Travis Gittens, who had just celebrated his sixth birthday.
When the boy first came to the Gittenses through foster care, he brought with him a fear of police.
But that has gradually changed thanks to some well-meaning officers, a lot of community support, and a really neat motorized police cruiser he now counts among his possessions.
After seeing how nervous Travis was after a routine interaction with an officer in the neighborhood, his parents knew they had to do something. They reached out to West Pittston Police Chief Michael Turner, to make something happen.
SUPPORT POURS IN
The officers delighted Travis with numerous patches, gift cards, a police uniform and a motorized police cruiser to ride in.
In the last year, Travis has set his heart on becoming a policeman when he grows up.
Ptlm. DeMark stressed the positive effects that outreach like this can have.
"A lot of people have a negative image of police… (but) we're your friends," he said. "We are humans before police officers."
God bless our amazing Pennsylvania Police Officers... You truly make a difference, and we appreciate you! 
ARE YOU A LAW ENFORCEMENT SUPPORTER? Shop our unique line of Thin Blue Line Shirts and Hoodies. 100% OF PROFITS GO TO LAW ENFORCEMENT CHARITIES. USE CODE "CHRISTMAS" FOR 25% OFF. CLICK HERE TO SHOP
LOOK GREAT AND MAKE A DIFFERENCE THIS HOLIDAY SEASON!
---
Other News Stories you may like:
77-year-old Pa. constable delivers meals to the homebound, and to First responders
10-Year-old Girl Thanks Police Officers With Hand Made Cards
Good Samaritan helps police end vehicle pursuit

---
 Are you a Thin Blue Line supporter? Shop our amazing collection of Thin Blue Line Products by clicking here
---