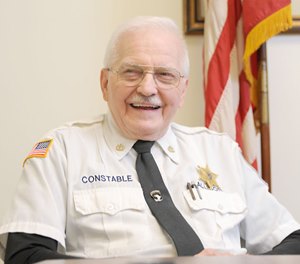 77-year-old Pa. constable delivers meals to the homebound, and to First responders
When he's not rounding up lawbreakers, State Constable Sam Allison Sr. is delivering food to First responders who must work during the holidays, or honoring fallen Veterans. 
Allison, 77, said he's been delivering food to the homebound for 16 years.
(Photo/Tribune-Democrat)
"It's the joy of giving back to the people," he said. "The look on their face when you knock on the door and you hand them a meal."
Allison said his desire to serve the community took him in a new direction.
"During my experience in law enforcement, I've seen so many accidents and drug overdoses and different things," he said. "I've witnessed firsthand what first responders do. They're so critical in our society. I started a program two years ago for first responders."
Now, Allison delivers holiday meals to members of 7th Ward Ambulance and West End Ambulance Service, and also to Johnstown police and firefighters.
"It's amazing," said Ira Hart, manager of West End Ambulance Service. "Without Sam, a lot of times, our folks wouldn't get to participate in a holiday meal. Sam never lets us down. He's always there for them."
Allison has been a state constable for 32 years. A retired sergeant major with the U.S. Army, Allison was involved in military operations in Vietnam, Bosnia, Panama and the Middle East.
More recently, Allison said he has purchased dozens of 18-by-12-inch American flags that he gives to families of military veterans during funeral services.
Deep respect for the fallen motivates him.
"Every time I find a brother who is deceased, I visit the funeral home in uniform and I tell the family who I am and what I'm there for," he said. He hands them a folded flag to honor their loved ones.
Allison has no intentions of slowing down either, he said.
He still rides in a patrol car with Johnstown police two nights a week.
"The bad guys haven't gotten me yet," Allison said. "It doesn't mean it can't happen. I want to keep sharp at all times and not become complacent."
Constable Sam Allison Sr. is a true hero, and represents the best in humanity! Thank you Sir and God bless!
---
Other News Stories you may like:
10-Year-old Girl Thanks Police Officers With Hand Made Cards
Good Samaritan helps police end vehicle pursuit
VIDEO: Florida Officers Join Mall Flash Mob

---
 Are you a Thin Blue Line supporter? Shop our amazing collection of Thin Blue Line Products by clicking here
---