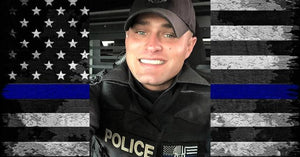 Hero Down: Riverdale Police Sgt. Maxim Kalkstein Dies Unexpectedly
Riverdale Police Department Sergeant Maxim Kalkstein died unexpectedly on Dec. 22.
Sgt. Kalkstein, 31, joined the Riverdale Police Department in June of 2014, according to his LinkedIn profile.
During the course of his career, he served as a K9 officer, field training officer and Criminal Investigation Division detective, and was also a sworn Clayton County Sheriff's Office deputy.
Prior to entering into law enforcement, Sgt. Kalkstein enrolled in the U.S. Army R.O.T.C. program at the University of North Carolina, Pembroke, according to his obituary.
The 11-year U.S. Army Reserve veteran was commissioned as a second lieutenant in 2010, and later rose to the rank of captain.
In 2013, Sgt. Kalkstein deployed to Afghanistan, and was a company commander at the time of his death.
He received numerous commendations during his military service, including the Joint Commendation Medal, the Army Achievement Medal, the Army Commendation Medal, the Army Reserve Achievement Medal, the National Defense Medal, the Military Outstanding Volunteer Service Medal, and the Afghanistan Campaign Medal, among others.
"Max was a natural leader who inspired others through an exceptional combination of humor, charm, bravery and compassion," his obituary read. "As a sergeant, he remained dedicated to the cause of public safety despite working long hours under difficult and dangerous circumstances."
His former coach, David Howes, recalled Sgt. Kalkstein as a standout athlete and leader, according to his memorial page.
"In my 25 years as a teacher and a coach, few flames ever burned brighter than yours," Howes wrote. "You were a fierce competitor, leader, and teammate. I am proud and grateful to have been your coach. My deepest condolences to your family and friends. Your flame went out too soon."
Sgt. Kalkstein leaves behind his father, stepmother, twin brother and his sister, as well as numerous aunts and uncles, cousins, nephews and one niece.
Sgt. Kalkstein was laid to rest on Friday.
Our thoughts and prayers are with the family of Sergeant Maxim Kalkstein, both blood and blue. Thank you for your service.
Rest easy, hero. We'll hold the line from here.
"Blessed are the peacemakers, for they shall be called sons of God". Matthew 5:9
---
Other News Stories you may like:
Police post heartbroken pics of Krispy Kreme doughnut truck lost in fire
Michigan Officers Stop Cars to Give Children Christmas Eve Gifts
VIDEO: Florida Officers Join Mall Flash Mob

---
 Are you a Thin Blue Line supporter? Shop our amazing collection of Thin Blue Line Products by clicking here
---