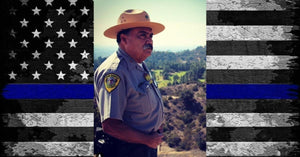 Hero Down: LAPR Captain Albert Torres Dies Of Heart Attack After 14-Hour Shift
City of Los Angeles Park Ranger Division Captain Albert Torres served his department for over 40 years.
Los Angeles, CA – City of Los Angeles Park Ranger Division (LAPR) Captain Albert Torres died early Saturday morning, after he collapsed while patrolling an area affected by the Saddle Ridge fire the day before.
Capt. Torres, 67, had worked a 14-hour shift before he stopped off at the LAPR headquarters at the Griffith Park Visitor Center on Oct. 11, KCAL reported.
But once he got inside, the captain commented that he wasn't feeling well, and suddenly collapsed.
He was rushed to a local hospital, where he died the next morning, KCBS reported.
Doctors determined he had suffered a massive heart attack, according to the news outlet.
"It brings great sadness today to mourn the loss of our own, the beloved Captain Albert Torres of the Los Angeles Park Rangers," the department said in an Instagram post on Saturday.
Capt. Torres served LAPR for over 40 years.
"Over the course of his career, he has worked in every one of the parks in the City of LA," the department noted. "Captain Torres has worked every position and assignment in the Park Ranger Division, including acting Chief."
Capt. Torres also established a homeless outreach and city cleanup program, known as the "CityWide" unit, the agency said.
"He has left an everlasting impact on many," the LAPR statement continued. "He has provided safety to the public, sharing his vast knowledge on plants and wildlife and his constant willingness to offer mentorship and counseling."
Los Angeles City Councilwoman Nury Martinez described Capt. Torres as "the epitome of what it means to be a public servant," according to her Instagram post.
"Park Ranger Albert Torres went above and beyond the call of duty to ensure our parks and open spaces are safe and accessible to the people of Los Angeles." Martinez said. "Even last night he was working on the fires, doing what he loved and keeping us all safe. We miss him already. My heart goes out to his family, loved ones, and fellow park rangers."
Los Angeles City Attorney Mike Feuer said that Capt. Torres was a dedicated ranger and community partner who was "always upbeat and…willing to roll up his sleeves and help," according to his Instagram post.
"What an incredible public service legacy for Los Angeles," Feuer wrote. "We will miss him."
Capt. Torres leaves behind his wife, Cheryl, three children, and three grandsons, KCAL reported.
Brian Yoder described his father as "one of the most unselfish people" he'd ever met, according to KCAL. "He was just very giving, very gracious…He was always like a rock."
Cheryl had recently retired, and Capt. Torres' family had been asking him if he was thinking about doing the same.
"Someday," he'd respond, according to Brian.
Our thoughts and prayers are with the family of City of Los Angeles Park Ranger Division Captain Albert Torres, both blood and blue. Thank you for your service.
Rest easy, hero. We'll hold the line from here.
---