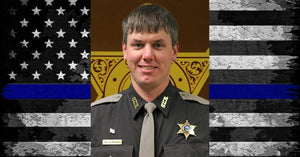 Hero Down: GCSO Deputy Jake Allmendinger Killed By Patrol Vehicle
Gallatin County Sheriff's Deputy Jake Allmendinger died in the line of duty on Saturday night.
Gallatin County, MT – Gallatin County Sheriff's Office (GCSO) Deputy Jake Allmendinger died in the line of duty on Saturday night after he became trapped beneath his patrol vehicle while trying to rescue a motorist on an icy rural road.
The incident occurred on Fairy Lake Road in the Bridger Mountain Range after GCSO deputies received a report of a "strange" and potentially stranded motorist at approximately 6 p.m., the Gallatin County Sheriff Brian Gootkin said during a press conference on Sunday.
A snowstorm was moving through the remote area at the time, making the normally-treacherous roads even more slick and dangerous.
As Deputy Allmendinger, 31, and fellow Deputy Ryan Jern responded to the area, their Chevrolet Tahoe patrol vehicle began to slide backwards on the icy mountain road, Sheriff Gootkin said.
They didn't know where the vehicle would end up if it continued to slide, the sheriff explained.
"Sometime during the slide, Jake went out the driver's side door, and became trapped under the Chevy Tahoe," the sheriff told reporters. "Ryan attempted immediate assistance, but was unable to save Jake."
After radioing for help, Deputy Jern spent approximately an hour trying to help Deputy Allmendinger while additional units made their way through the storm to the remote area.
"Obviously Jake – he was not in a good place at that point," Sheriff Gootkin said. "[Deputy Jern] tried to get him out from under the vehicle for a long time."
Multiple law enforcement and emergency medical agencies responded to the scene, and managed to extract Deputy Allmendinger from beneath the patrol SUV after several hours.
He was transported to a local hospital, where he was pronounced dead.
Sheriff Gootkin said investigators do not know why Deputy Allmendinger exited the patrol SUV.
"Unfortunately, the only person that knows is Jake," the sheriff said. "Ryan did not see him leave the vehicle…Ryan was getting ready for impact…When he turned around, Jake was already out of the vehicle…We don't know why he left."
Deputy Jern was not physically injured during the incident.
"Anybody that's driven that road – it's a bad road in the summertime [when] dry," the sheriff noted. "We always try to tell people [to] think – plan before you go out. That storm was totally predictable and for people to be going and being up in that area on that horrible road obviously puts our people in danger."
Sheriff Gootkin asked people to keep that in mind in the future.
"If anyone takes anything away from this, that they think about not only themselves, but they think about our search and rescue volunteer and our emergency responders that put themselves in danger to help them," the sheriff said. "That's exactly what those two were doing last night. They were going up to help someone."
The subject of the welfare check was ultimately taken to safety by the search and rescue team.
"Our folks probably saved that guy's life," the sheriff added.
The Montana Highway Patrol and the U.S. Forest Service is conducting the ongoing investigation into the incident.
"The outpouring of support has been amazing," Sheriff Gootkin said during the emotional press conference. "We're truly blessed to live where we live…my phone has not stopped."
Deputy Allmendinger began his career with the GCSO as a 911 dispatcher, where he served for over seven years, Sheriff Gootkin said.
In September of 2017, he was hired as a GCSO deputy.
He was also a voluntary member of the county's search and rescue team for eight years, the sheriff noted.
"Everyone liked Jake," Sheriff Gootkin said, fighting back tears. "He's a good, good guy. He'll be missed...When people's faces light up when they talk about him, that tells you everything."
Deputy Allmendinger leaves behind his wife, Monica, his three young children, Bentley, Lexi, and Kai, and his parents, Ron and Michelle, according to a GCSO press release.
"As difficult as this is for the GCSO family, it pales in comparison to what his family is going through," the department wrote in a later post. "The goal this week is to carry out their wishes as we all say goodbye to Jake."
"Our focus is Jake's family…We're going to take care of them," Sheriff Gootkin said. "We're going to need help, and we will accept that help."
Fourteen law enforcement and fire agencies escorted Deputy Allmendinger's body to the state medical examiner's office in Billings on Monday morning, the GCSO said in a Facebook post.
"We haven't left Jake's side and we won't," Sheriff Gootkin said. "This escort is about showing our respect for one of our own who died in the line of duty."
Our thoughts and prayers are with the family of Gallatin County Sheriff's Office Deputy Jake Allmendinger, both blood and blue. Thank you for your service.
Rest easy, hero. We'll hold the line from here.
---