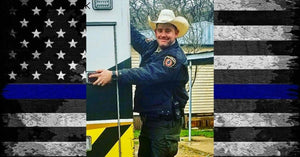 Hero Down: FCSO Deputy Matt Jones Killed By Hydroplaning Vehicle
Hero Down: FCSO Deputy Matt Jones Killed By Hydroplaning Vehicle
Falls County Sheriff's Office Deputy Matt Jones served his department for four years.
Riesel, TX – Falls County Sheriff's Office (FCSO) Deputy Matt Jones was killed in the line of duty on Friday afternoon, after he was struck by a hydroplaning vehicle while helping a stranded motorist.
Riesel Police Chief Danny Krumnow suffered major injuries during the same collision, KWTX reported.
The incident occurred near County Road 109 and State Highway 6 just before 2 p.m.
Deputy Jones and Chief Krumnow were out assisting a driver whose vehicle hydroplaned off the roadway when the driver of a Mazda sedan also hydroplaned.
The Mazda slammed into the officers. Deputy Jones, 30, succumbed to his injuries at the scene, KTRK reported.
Deputy Jones' partner, K9 Thor, was in the patrol vehicle at the time of the deadly collision, and was not injured.
The driver of the Mazda was transported to a local hospital, but his or her condition has not been released.
Chief Krumnow was airlifted to a Waco hospital in critical condition, and was subsequently flown to Scott and White Hospital in Temple, KWTX reported.
Surgeons removed his lacerated spleen, and the chief has since been upgraded to stable condition, Waco Police Sergeant Patrick Swanton told KWTX.
Chief Krumnow also suffered eight to nine broken ribs, as well as a dislocated knee.
"The Krumnow family is heartbroken by Friday's incident and their thoughts are also with the family of Deputy Matt Jones, his family, and the Falls County Sheriff's Office," Sgt. Swanton told the news outlet.
Deputy Jones served FCSO for four years.
"Mere words cannot express the loss we feel in our hearts," Falls County Sheriff Ricky Scaman said in a statement, according to KWTX. "We have lost a brother, a friend, a husband, and a servant of our community. And with that, we mourn."
"As these officers do daily, they were serving our community and protecting the lives and property of citizens they may not have even known," Sheriff Scaman said, according to My Texas Daily. "I ask that our community keep Deputy Jones, his family and friends, Chief Krumnow and others involved in the crash in your prayers."
Sgt. Swanton said that he and other members of the Waco Police Department (WPD) met with Deputy Jones' widow on Sunday.
"She asked us to pass along the following," Sgt. Swanton told KWTX. "She is so thankful for all the thoughts, and support that she has received. She wanted to thank everyone who has reached out to her and is very appreciative of what the community is doing."
A procession of first responders escorted Deputy Jones' body to Mesquite for autopsy.
"This is a tragic situation for everybody," Texas Department of Public Safety Sergeant Ryan Howard told KWTX. "It hits close to home. I just lost a brother in the line of duty."
K9 Thor has been placed at home with Deputy Jones' family, KBTX reported.
Deputy Jones leaves behind his wife, Courtney, as well as his parents, brothers, grandparents, and many friends and extended family members, according to his obituary.
Our thoughts and prayers are with the family of Falls County Sheriff's Office Deputy Matt Jones, both blood and blue. Thank you for your service.
Rest easy, hero. We'll hold the line from here.
---